Books
Confessions of a Medical Heretic
By Robert S Mendelsohn, M.D.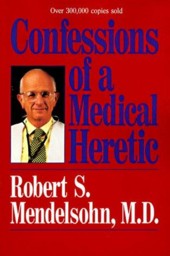 This new release of the critically acclaimed bestseller gives readers the information needed to help make their own medical decisions. Dr. Mendelsohn, world-famous Physician and patient advocate, was a pioneer in the movement toward truth in the medical profession. Here he explains why Modern Medicine's methods are often more dangerous than the diseases they are designed to diagnose and treat. This provocative book covers issues from unnecessary surgery and prescribed drugs to preventive medicine and home birth. At a time when people are more concerned than ever with total health and how to achieve it, this is a book you can't afford to ignore.

Dr. Robert Mendelsohn, known to millions through his nationally syndicated column as "The People's Doctor," was the national medical director of Project Head Start and chairman of the Medical Licensure Committee for the state of Illinois. Among the many faculty and hospital posts he held, he was an associate professor of the University of Illinois Medical School and a director of Chicago's Michael Reese Hospital.

His other books include

Male Practice: how Doctors Manipulate Women and
How to Raise a Healthy Child... in spite of Your Doctor
Confessions of a Medical Heretic is published by Contemporary Books.
ISBN 0-8092-4131-5
Poisoned Needle
By Eleanor McBean Ph.D.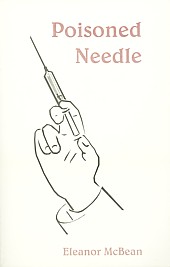 For the past 2000 years, physicians have been looking in the wrong direction for the cure of disease. Their worse than useless practice of killing germs with poison drugs can never solve the problem of disease. The cause of disease is stubbornly ignored and the seeds for more disease are sown with the use of vaccination. This infusion of poison into the masses only serves to intensify the disease in some cases, suppress the symptoms in others, and create new and more serious disease. Thus, the simple zymotic diseases of the past have devolved into the horrors of the present – our terrifying and expanding crop of "killer diseases". Eleanor McBean has accumulated compelling evidence regarding the vaccination of the masses, the role of politics and profit, and reasons we should reject the poisoned needle.
Obtainable from:
The Society of Metaphysicians
Archers Court
Stonestile Lane
Hastings
TN35 4PG
info@metaphysicians.org.uk
Vivisection or Science?
By Prof Pietro Croce
(New English Edition)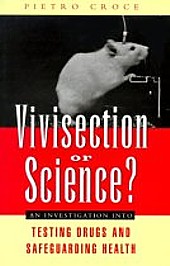 As the stream of hi-tech drugs continues to multiply and a huge number of animals (in Britain alone, over two and a half million each year) are used in medical experiments, debate continues about reliable methods for biomedical research and their adequacy in protecting human health from new products and procedures.

In this book, a leading Italian medical researcher concludes, after years of himself practising animal experimentation and vivisection, that the traditional reliance on these techniques is scientifically misplaced.

Published originally in Italian (where it has been through many editions), translated into German and Japanese, and now available in a completely revised and updated edition in English, Professor Croce's classic work constitutes a powerful argument to which both the general public and the medical profession need to pay attention.

He documents with a wealth of fascinating detail precisely how the scientific anti-vivisection movement has constructed a rational case, as opposed to a sentimental or ethical argument.

He highlights the increasing dangers to human health resulting from the animal experimenters' assumption that the biological systems of humans and other species are sufficiently similar for valid biomedical comparison.

Professor Pietro Croce headed the Research Laboratory of the L. Sacco Hospital in Milan for many years, in addition to working in various research departments in US and Spanish hospitals. He is the author of a number of medical works in Italian and Spanish.
Obtainable from:
jode7@tiscali.co.uk
Animal Experimentation: A Harvest of Shame
By Moneim A Fadali, MD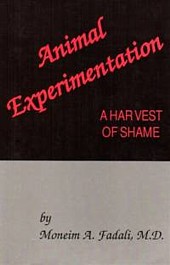 This is an extremely powerful book. It is a strong statement, not only on the question of animal experimentation, but also on our attitudes to and treatment of 'others' on this planet: individual humans, sexes, races, religions, animals, plants, nature, the whole environment.
"Dr Fadali has taken a complex and difficult issue, and rendered it comprehensible. He examines animal experimentation, not only from an ethical standpoint, but also from an eminently practical view of the problem it has caused for both doctors and patients."
Neal D. Barnard MD, President, Physicians Committee for Responsible Medicine, Washington D.C.
"It takes a surgeon/scientist of Doctor Fadali's stature, clarity and courage to debunk the dogma of the 'indispensability of animal research.' In this remarkable book, he illuminates the dark dungeons of animal experimentation with the bright lights of reason and compassion. I commend Dr Fadali and highly recommend his book."
Dr Michael Klaper
"In rhythmic, almost Shakespearian, prose surgeon Moneim Fadali walks us through 2,000 years of medical history to show that sacrificing animals at the altar of medical science has done nothing to advance, and much to retard, the growth of medical procedures and knowledge. He interweaves his own experience of medicine - in a way that is at once personal and highly credible. This book deserves the widest possible readership."
Brandon P. Reines, DVM President
"Doctor Fadali's book is a significant and important contribution to the growing weight of published evidence which reveals the sham of vivisection. It is long past time that we closed the book on vivisection and turned our minds and our talents to the task of halting the apparently relentless increase in illness and promoting good health. If we don't, the outlook for our children and grandchildren is not good..."
Dr Eddie Moore, OStJ, MD, ChB, MF Hom, MF, GM
"Love is the ink for this book." In which page? you ask. I could easily answer you with cold, impersonal numbers. I prefer not to. This ink flows through the entire book; it meanders through every single phrase, even through the most technical and scientific information..."
Pietro Croce, MD, Prof Emeritus, Pathology, University of Milano
"Dr Fadali has drawn on deep insight and long experience from his training and practice as a specialist and consultant in thoracic and cardiovascular surgery to produce a text that is passionate, informative and original as well as highly readable."
Dr Peter Mansfield, MD, MB, BChir, FPCert, GAM
Obtainable from:
46 Langdale Drive
Swindon
Wiltshire
SN5 8NR
1000 Doctors (and many more) Against Vivisection
By Hans Ruesch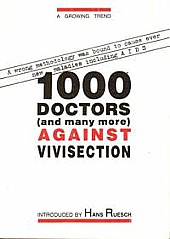 This excellent book contains many quotes against vivisection from medical authorities.
Obtainable from:
CIVITAS
PO Box 26
Swain NY 14884
USA
civitas@linkny.com
Slaughter of the Innocent
By Hans Ruesch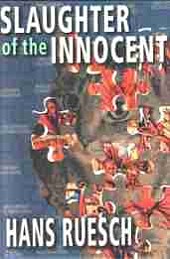 "Hans Ruesch's magnificent book washes away the thin excuses of doctor-apologists for animal testing. Comprehensively and carefully documented, objective, yet emotionally compelling."
Robert Mendelsohn, M.D.
Obtainable from:
CIVITAS
PO Box 26
Swain NY 14884
USA
civitas@linkny.com
Naked Empress, or the Great Medical Fraud
By Hans Ruesch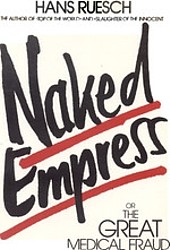 Following up his sensational Slaughter of the Innocent, Hans Ruesch shows how the public has been brainwashed into equating medical care with health, whereas in fact the opposite is true. Naked Empress describes how the oil industry adopted vivisection in order to give the public confidence in its new chemical products in the late nineteenth century, and shows how the drug industry grew into the most profitable of industries, which set up trusts to influence medical schools. It proves that we are all victims of the fraud of vivisection.
Obtainable from:
CIVITAS
PO Box 26
Swain NY 14884
USA
civitas@linkny.com
The Animals are Our Brothers and Sisters
By Werner Hartinger, M.D.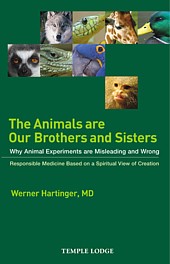 Respected surgeon and medical doctor Werner Hartinger investigates the claims and counterclaims concerning experimentation on animals. Through meticulous analysis he comes to the conclusion that animal experiments are not only unnecessary, but that the experiments themselves are questionable and lead to meaningless results.

Dr. Hartinger writes from many years' experience within the medical profession, and with ample scientific data to back his findings. He also tackles the spiritual aspect of this question, inspired by the work of the Austrian philosopher Rudolf Steiner. The author gives a commentary on Christian teachings regarding animals, examining the biblical commandments. He also studies the varieties of diseases and their causes, and the hidden aspects of sickness and health.

Werner Haringer, M.D, was a specialist in General and Accident Surgery and a practitioner for the Industrial Injuries Insurance Institutes, with over 30 years' experience in hospital and private practice. He held degrees in Internal Medicine, Gynaecology, Obstetrics and Anaesthetics, and was the Chairman of the German League of Doctors Against Animal Experiments as well as a Patron of Doctors in Britain Against Animal Experiments. He died in 2000.
Obtainable from:
The Society of Metaphysicians
Archers Court
Stonestile Lane
Hastings
TN35 4PG
info@metaphysicians.org.uk
When the Nightingale Sang
By Rosalind Franklin
(The nursing life of Cynthia O'Neill S.R.N., S.C.M., QN., H.V.)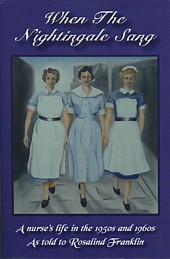 Cynthia O'Neill began her SRN training at Hammersmith Hospital in 1956, a time a nurse was not allowed to speak unless spoken to, and as nothing was disposable, everything had to be scrubbed and sterilised before re-use. More time seemed to be spent by a nurse polishing bedpans than caring for her patients!

After achieving her SRN, Cynthia went on to do Midwifery, Queens Nurse and Health Visitor Training. In 1961, she went to work as a District Nurse in Sussex.

However, this book is about far more than nursing: this is a burst of nostalgia for all lovers of the 50's and 60's.

As 'Rock and Roll' burst upon the scene, and the Cold War rages, a young woman struggles to juggle her career and love life in the days before 'Women's Lib'.
Obtainable from:
ISBN: 0-9515655-3-2

A Picture of Health
ISBN: 0-9515655-0-8
and
More Pictures of Health
ISBN: 0-9515655-1-6
By Cynthia O'Neill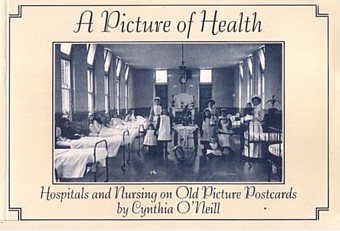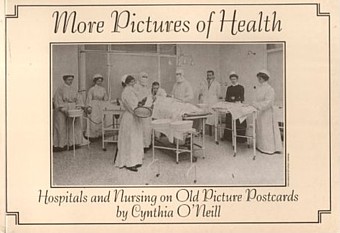 A nostalgic look at hospitals and nursing during the early decades of this century, illustrated by old and rare picture postcards selected from the author's extensive postcard collection. The illustrations include a variety of hospitals, all aspects of nursing, including war service, famous nurses, and the fund raising.
Obtainable from:
ISBN: 0-9515655-3-2

NB: All of the books by Cynthia O'Neill can now be seen in:
The Witney Museum
Gloucester Court Mews
75 High Street
Witney
Oxfordshire.